SEOKEY will automatically optimize many aspects of WordPress. The goal is simple : reach 1st place in Google.
With one click, let SEOKEY improve the following elements (if some terms are not explicit for you, we will publish more complete definitions very soon):
An automatic setting of your metas

: Where other extensions offered a restrictive and not very explicit setting with %%title%% to insert, SEOKEY will manage it for you. You only have to focus on the essential: writing good content;
The disabling and redirecting of archives by date

: WordPress natively creates URLs for each year, month and day you published. These contents are unfortunately harmful because they do not target any keyword, are duplicated and waste Google's time. SEOKEY takes care of getting rid of them;
HTML cleanup

: WordPress has the annoying tendency to add a lot of information to your HTML code, especially in the HEAD. SEOKEY removes this information to lighten the weight of the pages and prevent Google from following some useless links;
A menu for your Post Type archives

: in WordPress, you can create new types of content ("products", "customers", …). Some may have activated an archive page, (i.e. a page that lists all content of this type). It is, for example, the case of a possible "Blog" page that lists all content of type "Article". SEOKEY adds a menu that will allow you to see this page more easily, and optimize the meta tags;
Improved login page:

by default, on your login page, the instructions given to Google (the meta robot tag) are not optimal, and this page is also linked to an external site (WordPress.org). SEOKEY corrects these two defects;
Deleted attachment pages:

WordPress creates by default dedicated URLs for each image you upload. But they are empty of text content and waste Google's time. SEOKEY removes them and redirects them to the image itself;
Disabled internal pings: you may have already experienced it, WordPress will sometimes create a comment on your content when it links to another of your content. This is unfortunately unnecessary and not very optimized. SEOKEY disables this feature;
An optimized robots.txt file

: the robots.txt file allows you to tell Google which folders, files and URLs it should never visit again. But this does more harm than good because, on a truly optimized site, search engines should never find these links. SEOKEY will create a simple and effective file, we physically create it, making it much faster to load than other extensions;
Improved writing interface

: In Gutenberg, as in the old WordPress content editor (TinyMCE), some options could be detrimental. One of them is the possibility to add H1s or links to attachment pages. SEOKEY cleans this up;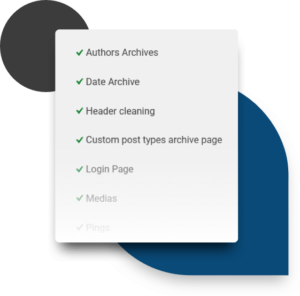 More complete authors:

 when you edit a user's profile, SEOKEY adds several fields to tell Google who you are. The objective is simple: to make your website more credible (EAT criteria);
Enriched information for Google (schema.org): Google can sometimes have trouble understanding who you are and where he is on your website. Depending on your settings, SEOKEY will automatically add several schema.org markup that will give it these valuable information (breadcrumbs, person, organization or local business markup);
Improved RSS feeds: RSS feeds can be useful for Internet users who want to subscribe to your content. But in SEO, they often waste time for search engines or cause duplicate content. SEOKEY optimizes them in-depth (no more duplicated content, adding of a link, adding an image if possible, deactivating comment RSS feeds, etc.);
Optimized sitemaps files: to know all the pages of your website, a search engine may need sitemaps.xml files that list all your content. WordPress will create them natively, but they are slow and not very optimized. SEOKEY disables them to create its own. Better yet, as for the robots.txt file, we physically generate these files for a better loading time. Finally, as soon as your Search Console is connected, we take care of submitting it to Google;
Improvement of the cache extensions: for a better loading time, we strongly advise you to install a cache extension (e.g. WP Rocket). But these extensions will sometimes create temporary files that will eventually become error pages harmful to search engines. SEOKEY corrects these by using a 410 code that will tell Google that it should not visit them anymore.
Of course, there are sometimes special cases. Some optimizations can be deactivated according to your needs:
Disable and redirect secondary RSS feeds

: by default, WordPress will create an RSS feed for each of your taxonomies (e.g. for each category). In general, these feeds are nearly unused by Internet users, but Google will waste time visiting them for nothing;
Disabling comment pagination

: in WordPress, you can enable comment subpages. For example, we display the last 50 comments in the article, then click on a link to get the next 50. But this creates duplicate pages, which do not target any keyword and impoverish your main content. SEOKEY can disable them and redirect them.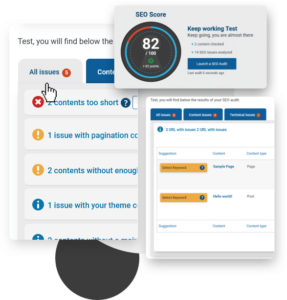 Hide private content: in SEOKEY, as in other extensions, you can say that you want to hide content from Google (a "noindex" content). By activating an additional option, this will also hide it from users in your listings pages (on your homepage, in your category pages, etc.);
Disable the "Reply to" buttons:

when a user writes a comment, WordPress adds a reply button to encourage discussion. For the user, this is a real plus

, b

ut for Search Engines, it will create additional links to follow. By activating this option, we remove all the reply buttons so as not to waste Google's time;
Disable the pagination of authors

: the pages dedicated to your authors list all their articles. But often, this will create many pages of pagination where Google will get lost. SEOKEY deactivates them and redirects them to the author's main page.