SEOKEY 1.6 is here, and this version takes a giant leap in WordPress SEO optimizations: multilingual compatibility and multiple improvements!
Multilingual compatibility is finally here!
SEOKEY 1.6 brings above all the first step for our compatibility with the most used multilingual modules: WPML and Polylang.
By updating, we take care of adapting all our automatic SEO optimizations:
real XML sitemaps for each language (with faster loading than other SEO plugins);
automatic submission of these files to your Search Console (PRO version)
your canonical tags are adapted to each content and language;
the right redirects for each of our automatic optimizations;
And this is only the first step! The second version of our multilingual compatibility will come with SEOKEY 1.7, in order to make WeGlot compatible, and to be able to select several Search Consoles if you use several subdomains or separate domain names.
Better compatibility
This was our second priority: improving SEOKEY compatibility with other plugins.
DIVI is now 100% compatible, just like WooCommerce and Elementor: our audit will be faster and more accurate to give you real SEO advice dedicated to your WordPress.
We have also eliminated several small bugs that some people could encounter with specific plugins, for example with Download Monitor.
Important changes
There are two important points to note in this version:
Sitemaps files
The first thing to know is that we have moved our sitemaps files to a dedicated directory in "/uploads/seokey/sitemaps". This will help you to better "store" these files rather than having them at the root of your hosting.
At the same time, we renamed them to integrate natively your language: sitemap-index becomes for example sitemap-index-FRA in French. If you have only one language, it does not change anything for you. If you have several, it will allow you to have easily distinct sitemaps files.
Of course, SEOKEY takes care of redirecting your old sitemaps files to the new ones without any action!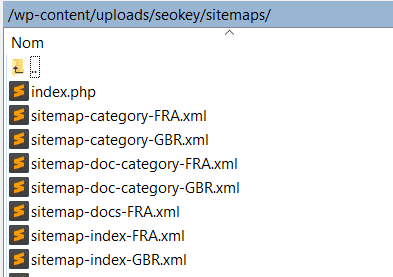 Accessibility and alternative texts
Secondly, in SEOKEY 1.5, we added a useful SEO feature: if an image did not have a descriptive text (the ALT text) in one of your contents, then our plugin automatically fills it thanks to the media library (and thanks to our alternative text editor).
But sometimes, it is important for accessibility purposes to be able to adapt the description according to the image context and therefore not to have the same text everywhere. A new audit task has been created to warn you about the images for which we have filled this alternative text automatically, which will allow you to correct them if necessary. SEOKEY is SEO plugin, but we are committed to improving the accessibility of your website.
Various improvements
We have also fixed many small bugs, while improving our functionalities, interface and help messages. These include:
An improvement of the keyword density audit task: it is now much more accurate (PRO) ;
Notification about disconnected Search Console can now be dismissed;
Automatic redirects are now only recorded when Googlebot uses them: this will save you from fixing some that would not have had any impact on your SEO;
Help messages have been improved, especially in the redirect menu;
Several of our functions have now better performance (for sitemaps files or our redirections for example);
For the complete list of changes, see them right here.
What's next?
SEOKEY 1.7 is already on track, with two axes to improve your SEO:
the second step of the multilingual compatibility (WeGlot, multiple selection of Search Consoles) ;
an enhanced audit.
We can't wait!